Member Secretary
Dr. Arnesha Guha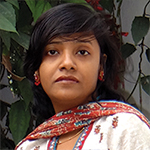 Ms. Arnesha Guha holds M.Sc, M.Phil (Environmental Sc., Education), Ph.D , PGDHR, PGDEM, PGDGIS & RS qualifications in the areas of Environmental Science, Education, GIS- Remote Sensing & Human Rights is associated with Scientific & Environmental Research Institute, Kolkata as Academic Head. She is also the Secretary of International Benevolent Research Foundation (IBRF).
More than 20 training programmes on environmental education, GIS & Remote Sensing have been conducted under her dynamic leadership for the participants from public as well as private sector organisations for acquiring expert knowledge in the areas of environment & Geo Science.
She has mentored 3 Ph.D., 15 M.Phil and 30 Post Graduate scholars who are occupying significant research positions in academics and industry all over the world. He has published more than 15 research papers in different International peer reviewed reputed journals.
Dr. Arnesha Guha is the Member of Nation Environmental Science Academy, Foundation For Science & Environment, Global Warming Reduction Centre & Confederation of Indian NGOs.
Award Notification
International Foundation for Environment and Ecology recognizes the contribution of scientists, academicians, research scholars in the different field of science and environment. The Institute has instituted several awards to motivate and further the spirit of the talented ones in the field of Sciences. The selection of the awards is considered mainly on the basis of the merit. »Click here...