Chief Patron
Dr. Priya Ranjan Trivedi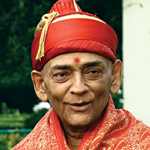 Chancellor Dr. Priya Ranjan Trivedi (66) is the world renowned environmental scientist, institution builder and a charismatic leader with more than 43 years of teaching and training experience in different areas of environmental science and engineering, disaster management, sustainable development, peace studies, conflict resolution, human rights, intellectual property rights, ecological tourism, geriatric care and institution building strategies.
He has been responsible for the establishment of many universities and professional / vocational institutions in India as well as in other countries of the world. He has authored the World Encyclopaedias on emerging subjects like environmental sciences, remote sensing, health care, global peace and security, production and operations management, materials management, bioinformatics, green business management, geriatric care, habitat and population studies etc.
As the President of the Confederation of Indian Universities (CIU) created during the NDA regime in the year 2004, Dr. Priya Ranjan Trivedi has tried to unite all the 753 universities in the country for optimising the available resources in the country with a view to stopping the duplication of effort s in the area of higher and tertiary education.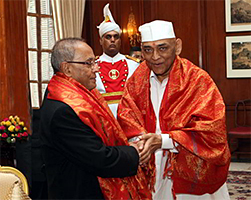 During his visits to different countries including USA, UK, Italy, Spain, France, Germany, Sri Lanka, Nepal, South Korea, Mongolia, Zambia, Uganda, Ethiopia, Maldives, Indonesia, Russia, Poland, Dr. Priya Ranjan Trivedi has been transferring the appropriate technologies of institution building from India to the rest of the world. He has received more than 55 international and national awards and appreciations conferred upon him in many countries of the world for his outstanding contribution in the areas of alternative dispute resolution, diplomatic studies, interfaith studies, spiritual development etc.
Dr. P R Trivedi has designed a masterplan paradigm for leading India by providing appropriate guidance to the Government of India in the areas of skill development, entrepreneurial leadership besides managerial competence among the young boys and girls by advocating the slogan "Catch Them Young" so that they could finally become didactics to educate their fathers, mothers, teachers and colleagues, rather the entire neighbourhood with no worries and miseries in the country.
Dr. P R Trivedi i s the first person in India to have thought of vocationalising the existing careers of young boys and girls by giving them employment centric education with a view to solving the problems r elating to employment as well as unemployableness. He has designed more than 2100 skill based courses with self-instructional study material s for ensuring perfect training in order to achieve the milestone of producing 550 million skilled persons in the country by the year 2024.
Dr. P R Trivedi has envisaged that the two main problems of our country i.e. unemployment and pollution have to be tackled by creating environment friendly and sustainable jobs by designing a job creation policy which could be sustained by the mother earth of our country.